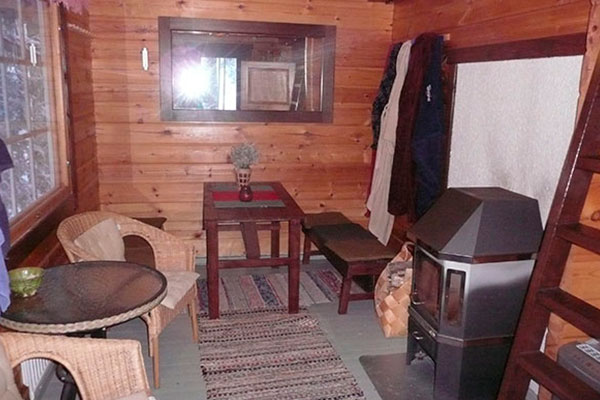 The lakeside sauna was built in 2010 and is 25 square metres in area. It comprises the sauna, as well as a separate room with washing facilities and a dressing room. There is a small wood-burning fireplace in the dressing room. Five guests can comfortably bathe in the sauna at any one time. The sauna has a wood-burning stove, and the washing room is fitted with under-floor heating. During the summer season the water is electrically pumped from the lake to the washing room, but in winter the water needs to be carried inside in buckets. Above the sauna there is a sleeping loft for up to four guests.  A glassed-in porch serves as a cooling-off area, above which is a small balcony that can be reached via the sleeping loft. In front of the building there is a patio area with seats, a roofed-over barbecue and a wood-heated hot tub. Steps from the patio lead straight onto the jetty. By the beach there is a terrace with a garden swing and a deck chair for relaxing. A separate outdoor toilet and a place for a campfire can also be found there.
On the nearby Pikkusaari Island you can be even closer to nature by camping in the lean-to building, which sleeps up to four people. You can grill sausages and make campfire coffee in the hearth.
The lakeside sauna and the hot tub can be heated daily to suit your own timetable.
The beach by the sauna is sandy and shallow, so it's excellent for swimming.