SyVilla offers different kinds of private holiday accommodation for rent. Sleeping arrangements, depending on the time of year, allow for up to 25 guests. You can choose the appropriate accommodation to suit your own personal needs.
The kitchen and dining facilities in the outbuilding, as well as the lakeside sauna with its patio area and the lean-to on Pikkusaari Island are available for all the guests to use. They can be rented together or separately for particular occasions as required.
The owners occasionally stay in the private quarters in the main building. They are happy to help with all your enquiries, both in Finnish and English.
Main building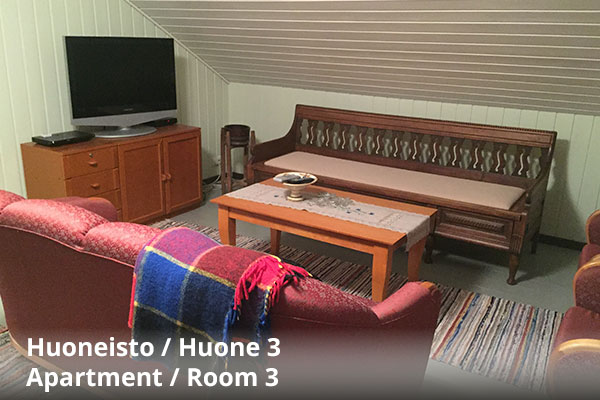 There are eight rooms in the main building, some of which are in the owners' private use. The upstairs apartment has its own entrance and comprises a living room, sleeping alcove and kitchenette as well as a separate bedroom, toilet and balcony. The accommodation sleeps five people. A door from the living room opens out onto the balcony where you can admire the view of the lake. The kitchenette is equipped with a sink, fridge, electric cooker, microwave oven, electric oven, coffee maker, kettle and crockery for six people. There is a wood-burning fireplace in the living room. The apartment has a television and wireless internet connection. The guests are also welcome to use the washing machine and the shower installed in the downstairs bathroom.
There are also two separate double rooms (one with a small wood-burning stove) upstairs in the main building. All the rooms upstairs have electric radiators. Downstairs in the main building there is a kitchen and sitting room as well as two rooms which are usually in private use. The kitchen is equipped with a sink, hot and cold water, an electric stove, microwave oven, two fridges and freezers, electric kettle, coffee maker, toaster and dishwasher. The kitchen and sitting room may be rented by separate agreement.

Outbuildings

Next to the main building there are two separate sleeping quarters which share a common entrance. In one of the rooms there is a double bed, a kitchenette and a wood-burning fireplace. In the other room, there are three sets of bunk beds for seven people and a farm-style dining table and benches.
The old smoke sauna has been refurbished to sleep five guests. The building leads onto a lovely patio area. All of the accommodation has been equipped with electric lighting. There is also a separate outdoor toilet.